To date, there were numerous studies of coffee, how it acts on our body, and they showed us that coffee has more health benefits than harmful. It is vital, but as we have already noted that moderation is the key to everything, including the consumption of coffee.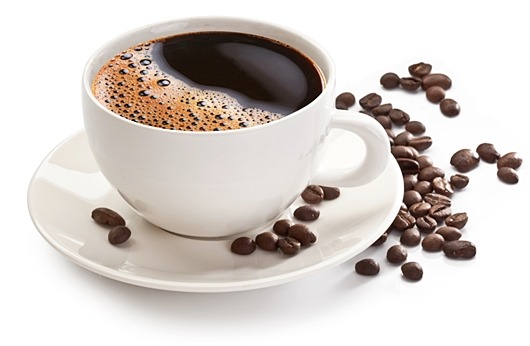 Studies have shown the existence of the previously unknown substance in coffee that stimulate the production of adrenal hormones adrenaline and cortisol. Also, it is demonstrated that antioxidants found in coffee significantly reduce the possibility of Parkinson's and Alzheimer's disease. Reduces the risk of dementia and improve cognitive function. The effect of caffeine is most visible in the elderly population.
Coffee is a natural stimulant and for that, it is responsible caffeine. Caffeine is a natural psychostimulant and because of that has a positive effect on the nervous system. Shortly after minor or moderate consumption causes cognitive activity and removes the feeling of tiredness and increases alertness.
In large quantities can cause excitement, insomnia, and rapid heartbeat. The stimulating effect of coffee can cause a mild addiction. Therefore, in many people , the coffee is a morning ritual . An average cup of coffee contains 100 to 150 milligrams of caffeine.
Caffeine in large doses is very harmful, but the dose in one cup of coffee is harmless, even healthy. The prohibited dose is 150 milligrams per kilogram of body weight (ex:150 mg per kg it's like a person of 60 kg, to drink 75 cups of coffee). The effect of caffeine from coffee is lost from the body for a period of four to six hours depending on the type of coffee.
It has been shown that reduce the risk of disease of cirrhosis of the liver, and therefore reduces the risk of the primary malignant liver tumors, which often occurs as a result of liver cirrhosis. Coffee in providing a protective effect of type II diabetes, breast cancer, and dental caries.
In many people, caffeine causes disturbances in the body, type of insomnia or irritability and they simply do not want caffeine's stimulating effect, so they have the choice to consume coffee without caffeine.
It should be noted that coffee can cause rapid heartbeat, and even skipping heartbeats. These things often happen when we overreact with consummation. In people with genetic predispositions of heart anomalies, coffee can easily cause cardiac arrhythmias due to the excesses of coffee. Coffee boosts the secretion of stomach acid, but in this case, not recommended for people who suffer from ulcers of the stomach or duodenum.
NUTRITIONAL VALUES
Energy value 241 kcal
Total Protein 12.20 g
Total Carbohydrates 41.10 g
– Of which: sugars 0.00 g
Total fat 0,50 g
– Of which: saturated fatty acids 0.20 g
Dietary fiber 0.00 g
Cholesterol 0.00 mg
Water 3.10 g
The amino acid tryptophan 0.03 g
The amino acid threonine 0.14 g
The amino acid isoleucine 0.17 g
The amino acid leucine 0.48 g
Amino acids lysine 0.10 g
The amino acid methionine 0.02 g
The amino acid cystine 0.20 g
The amino acid phenylalanine 0.26 g
The amino acid tyrosine 0.17 g
The amino acid valine 0.28 g
The amino acid arginine 0.05 g
The amino acid histidine 0.17 g
Monounsaturated fatty acids 0.04 g
Polyunsaturated fatty acid 0.20 g
Vitamin A 0.00 IU
Vitamin B1 (thiamine) 0.01 mg
Vitamin B2 (Riboflavin) 0.07 mg
Vitamin B3 (Niacin) 28.17 mg
Vitamin B6 (pyridoxine) 0.03 mg
Vitamin B12 (Cobalamin) 0.00 mcg
Folate 0.00 mcg
Vitamin B5 (pantothenic acid) 0.10 mg
Folic acid 0.00 mg
Vitamin C 0.00 mcg
Vitamin E 0.00 IU
Vitamin K 1.90 mcg
Calcium (Ca), 141.00 mg
Copper (Cu) 0.14 mg
Iron (Fe) 4.41 mg
Magnesium (Mg) 327.00 mg
Phosphorus (P) 303.00 mg
Potassium (K) 3535.00 mg
Sodium (Na) 0,037 g
Zinc (Zn) 0.35 mg
Manganese (Mn) 1.71 mg
Selenium (Se) 12.60 mg
---
Author: K.S